Video: Are Your Goals SMART?
Subscribe to my YouTube Channel
Why are Goals Important?
Setting goals is an important element of performance management and overall organizational productivity. If constructed correctly, goals give employees a clear standard of what acceptable performance looks like.  When goals are poorly constructed, employee motivation is harmed.
Poorly constructed business goals frustrate employees as they have no consistent method for assessing how well they are meeting workplace requirements. Click To Tweet
What Are SMART Goals?
Goals should be SMART and this familiar acronym provides a useful approach for constructing goals. SMART stands for specific, measurable, action-oriented, realistic, and time-oriented.  When a  goal includes all of these five elements, it eliminates confusion and it provides a clear standard for measuring performance.   The SMART acronym for developing goals means the following:
Specific: avoids broad statements
Measurable: Identifies when target is reached
Action-Oriented: specifies what must be done
Realistic: is challenging but not unrealistic
Time-Oriented: imposes deadline requirements
SMART goals are specific, measurable, action-oriented, realistic, and time-oriented. Click To Tweet
The difference between SMART goals and regular goals is significant.  Consider the following goals for a customer service representative:
Regular goal: Increase customer satisfaction survey ratings.
SMART goal: Increase customer satisfaction survey ratings for incoming calls from 50% to 75% by quarter 4 of the current year.
The first goal is clearly vague and it sets up the manager and employee for disagreement over what constitutes an acceptable increase in the customer satisfaction rate.  A 1% bump is an increase. But, is 1% the goal the manager has in mind? What about the timing for this goal? If it takes the employee two years to increase his rate, is this an acceptable period of time?
In both cases, the answer is no but the employee was not given a clear goal. With the SMART goal, however, the employee knows how much of an increase he has to make and by when it is to occur.  He also knows where to focus his efforts.
SMART goals are an important tool in a manager's toolbox.  They are helpful for coaching, motivation, development, and performance management purposes.  Done correctly, they can have a positive impact on organizational productivity.
A final tip: Allow your employees to help you develop their own SMART goals and you will greatly increase the power of this tool.  By allowing them to participate, they become co-owners with you of the goals.  And, as we all know, we treat the car we own better than the car we rent for a few days!
When employees participate in setting their own business goals they are more likely to meet them. Click To Tweet
How to Make SMART Goals?
The following chart provides an overview of the elements for constructing SMART goals: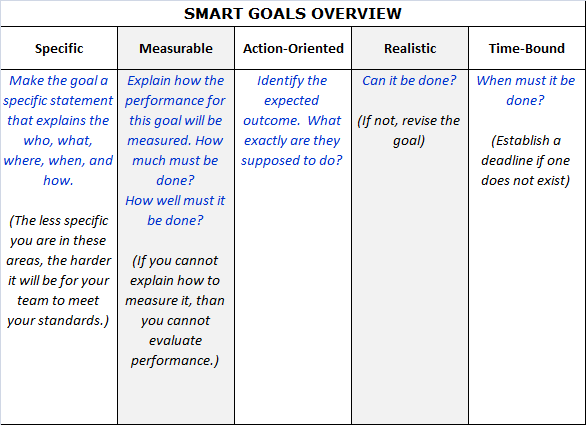 Use SMART goals to improve the productivity of your work group.
SMART goals eliminate confusion and they provide a clear standard for measuring performance. Click To Tweet
Written by Robert Tanner | Copyrighted Material | All Rights Reserved Worldwide