Mention Las Vegas, and casinos, shows, boxing matches, concerts, and buffets come to mind! They are the usual attractions that tourists want to capture for their digital albums and Facebook pages to show that they've been there and "done that."
Most people when they travel to Vegas follow this plan. They stick to the usual tourist activities and do what every one else recommends. After all, the Las Vegas area is in the desert so there isn't much else to see besides the bright lights of the strip and a trip to Hoover Dam.  Right?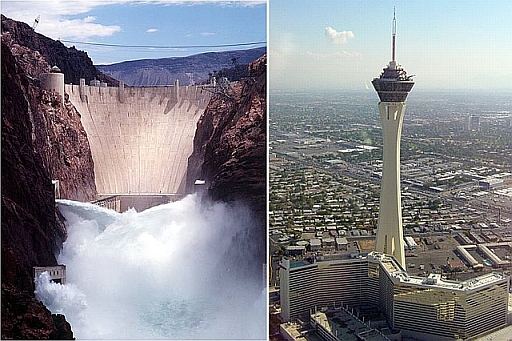 As people share their stories and television shows like CSI: Las Vegas memorialize the town, it's easy to get only this one view of Las Vegas. There's more to the Las Vegas area, however, if you are willing to venture out of your comfort zone. Right outside the crowds on the strip and outside of the large city itself is another world you would not think existed. Here's another perspective of the Las Vegas area that is just a short distance away:
As my wife and I hiked in Mount Charleston (two top photos above) and at Red Rock National Park (two bottom photos above) and saw places like these, we shook our heads in disbelief. She agreed when I told her: You'd never believe these places are so close to Vegas!  They were a different world that we could easily had never seen had we not been willing to take the risk that comes with doing something different.
So, what did my time in Las Vegas teach me again about change, management, and life in general?  Here's what I learned again in a different way as only the natural world can teach:
1. Challenge your thinking and the thinking that others impose on you. Just because something has always been done one way does not mean that you are getting the best result. Don't be so bound by what others think.  Keep that childlike quality of always asking why.  When you do this you stay open to new possibilities!
2. Tired of your view of things. Tired of things not working well despite your best efforts. Make a change then!  Try a different approach to how you manage others (or live your life). Take another path if you want to get a different perspective. Albert Einstein said it best: The definition of insanity is doing the same thing over and over again and expecting a different result.
3. Be persistent on your journey of discovery (whatever it is) and you'll often find a new world that's not too far from the path you've always traveled. This new world may be different and at first a bit scary or maybe uncomfortable. These feelings are normal—you're not used to this new world. Don't give up too easily, though! Give this new world a chance. You may find it suits you better and it is the change you long have needed.
Do you want to be an effective change agent? Do you need to be a more effective manager and leader? Do you need to make some important changes in your life? There's a world of opportunity available to you if you are willing to take educated risks, challenge the norm, walk another path, think differently, and be persistent on your journey of discovery.
Written by Robert Tanner | Copyrighted Material | All Rights Reserved Worldwide