Video: Understanding and Managing Generation Y (Millennials)
Subscribe to my YouTube Channel
They are called by many names: Generation Y (Gen Y), Millennials, Nintendo Generation, Internet Generation, Generation 2001, etc.  Born around 1980 through 2000, they will become the dominant demographic percentage of the workplace as Baby Boomers retire.
Where TV had a heavy impact on Baby Boomers, with Gen Y it was the Internet that made them. Where many Gen X'ers lived the latch key experience as their parents focused on establishing their careers, many Gen Y have been doted upon as their parents have focused more on work/life balance and protecting their kids.
Millennials are natural networkers who effortlessly navigate the digital world with their Smartphones and other electronic devices. They readily share information (sometimes too much) and information travels quickly through their communication networks.
If you are a Baby Boomer and in tune to your family communications, you may notice that your young grandchildren, nephews, and nieces often have "the scoop" on the family happenings before the older relatives do. As a whole, Gen Y are the most accepting of diversity. They are sociable and confident.
Millennials (Gen Y) are natural networkers who can navigate the digital world with ease. Click To Tweet
Like other American generations, societal events shaped their generational personality. Here's a list of 15 influential events that shaped Generation Y as they were growing up:
Computers and technology
Girl's movement
TV talk shows
Oklahoma City bombing
Increased parental emphasis on child rearing
School yard violence (Columbine, etc.)
Diversity
Busy planned lives
Extended family relationships
Early exposure to serious adult issues
Environmental impact awareness
Rise of social media (MySpace, Friendster, Facebook)
Google founding as a search engine
Video games
Desert Storm
Gen Y is a sociable and confident generation that prefers coaching to traditional supervision. Click To Tweet
The following is an infographic from Compliance and Safety Training that they recently sent me about Generation Y. The infographic provides some interesting statistics that show why Generation Y is having such an impact in the workplace: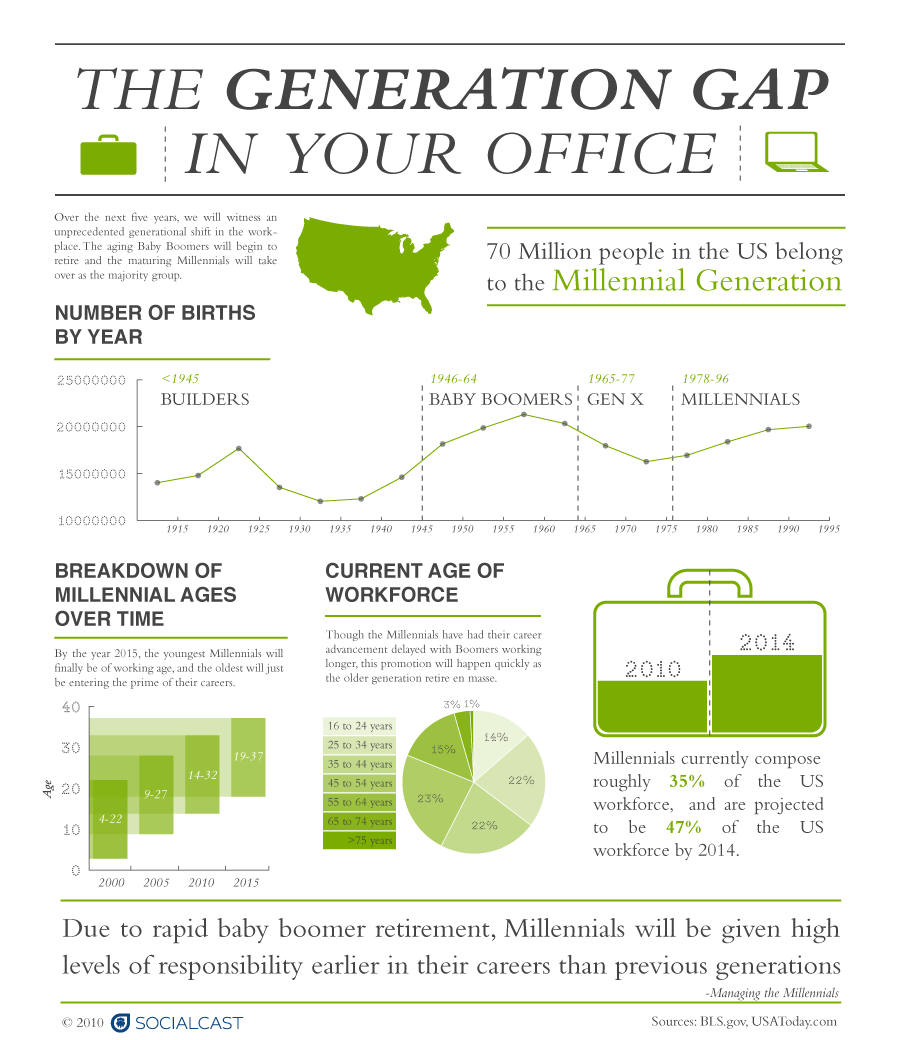 One common concern I hear from older managers in my training and consulting work is the difficulties they encounter managing their Gen Y workers. The reality is that older managers will have to loosen the reins of control some if they want their companies to remain viable. The growing workforce participation numbers alone for Gen Y show why managers who ignore the expectations of this demographic do so at their own risk.
Both of these younger generational groups have a 
different perspective
 on the workplace. Baby Boomers and Veterans will have to adapt as their own numbers and power in organizations shift to Generations Y and X. It will take some effort for the four generations to collaborative effectively in the workplace but it can be done.
Managers have no choice but to learn how to work effectively with Gen Y (the Millennials). Gen Y is now the largest generation in the workplace. Click To Tweet
---
Reference Information:
 Image of managers-courtesy of stockimages/ FreeDigitalPhotos.net

C & S Training Infographic used for information purposes only. No benefit received.

Article Reference: Zemke, R., Raines, C., & Filipczak, B. (2000). Generations at Work. New York: AMACOM.
Written by Robert Tanner | Copyrighted Material | All Rights Reserved Worldwide